Commercial Fuels
Diesel Fuel
Central Massachusetts is a rapidly growing marketplace. Radio Oil is proud to be a part of that growth. Our fleet of tank trucks can be seen daily throughout the area making deliveries of our Premium Diesel Fuels to some of the leading construction companies, trucking fleets, and other businesses.
Longevity
Our fully-additized diesels are available for on road use and for tax-exempt off road use.  They will keep your fuel systems clean, extend the life of your engines, and provide reliable year-round operations.
Benefits
Improved fuel economy
Lower maintenance costs
More horsepower
Better cold weather operability
Longer engine life
Maximum operating efficiencies
Why additized diesel fuel?
Because left untreated, today's diesel fuel may impede your engine's performance due to increased injector deposits, premature injector failure, rapid fuel degradation, poor fuel economy, and unacceptable cold weather operability.
Our Premium Diesels feature:

Detergent/Dispersant
Keeps injectors and fuel systems clean and operating at peak efficiency.

Corrosion Inhibitor
Combats natural corrosion effects of fuel and helps avoid rust blockages in filters.

Lubricity Agent
Lubricates injectors and pumps to prevent premature wear.

Stabilizer
Stabilizes fuel to prevent formation of sediments and gums.

Cold Flow Improver
Helps avoid plugged filters due to waxing and reduces the need for kerosene blending. Reduces the cold filter plugging point (CFPP) by 8° to 12°F.

De-Icer
Maximizes winter operability by lowering the freezing point of any water molecules entrapped in the fuel.
You can't afford to use anything else!
Heating Oils
We only allow the best quality heating oil into our storage facility. We always have thousands of gallons of #2 oil available for immediate delivery.  Automatic delivery service is our specialty. Licensed personnel respond to your needs for service. They are trained in both residential and commercial heating systems.
Gasoline
Reformulated gasoline meeting current air quality standards can be delivered to your tank or picked up in our yard.
Why select Radio Oil as your commercial fuel supplier?
As the leading fuel & lubricant supplier in central Massachusetts we offer:
Best Products
Top Quality #2 oil, diesel fuels, & gasoline.  We specialize in fully-additized on and off road diesel fuels.
Competitive Prices
Our large storage facility in Worcester allows us to buy in volume and pass on savings.
Personal Service
No matter how small your needs, we pledge to provide all our customers with personal service.
Prompt Delivery
Same or next day delivery is our standard.  We've been doing it throughout central Massachusetts since 1922.
Commercial fuels (volume dependent to) within the following Massachusetts counties: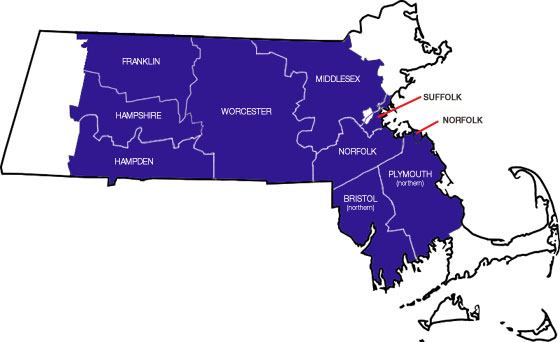 Franklin
Hampden
Hampshire
Middlesex
Norfolk
Northern Bristol
Northern Plymouth
Western Suffolk
Worcester